While I made both of the garments on display in this post, I've named the post itself after the skirt, and I think you will know why when you see the photos.
Sometimes you see an idea on the internet and despite all of your attempts to not be a pure unadulterated consumerist, (by the way, how was your me made may? I learned a lot about my outfit patterns and gave away some things I never touch, which was great!), you just hear a voice in your head whisper gimme. And this skirt tutorial from By Hand London was 100% one of those things.
No matter how many years I celebrate, 32 this July, yay! (I love my birthday!!!) or how many times my mother gives me the "stop dressing like a little girl" look, I love a ruffle. Dammit, I do! Is that okay? Can I be a feminist if I love ruffles? Yes, of course I can. But why have ruffles become so gendered? I mean, look at the way men USED to dress:
I mean, come on. That's some hard core manly ruffle right there. That's DOPE. How did this happen? Why didn't men fight back? Who doesn't want to feel so fancy? How did we come to THIS: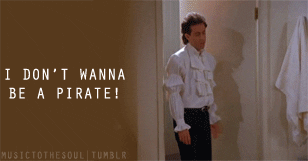 Ah, well, their loss. Perhaps in this age of openness in the realm of sexuality and gender we can somehow return to a more egalitarian ruffle space. We can only hope. But for now, I love a good ruffle, and that doesn't compromise my plans to tear down the patriarchy, but it does mean that when I twirl I look amazing!
RIIIGHT? Ah, a good twirl, who doesn't love it?
Weeeeee!
I used the tutorial to make this skirt, and it couldn't be easier. It's also, by the way, a total fabric hog. I eked this out of three meters of  58 inch wide striped fabric from Thakur and as you can see, the ruffle is no where near as ruffly as it could be, so, well, I guess my mother will be happy.
Still, I was able to play with the directionality of the stripes, which I love. I get a lot of compliments on this skirt when I wear it which is always a good sign (although I dress for ME!).
The shirt is a Deer and Doe Plantain, in an organic cotton knit from Fabric.com, and that's all there is to say about that, I mean, it's a knit cotton t-shirt, I've made a bunch of them, whatcha gonna say about it, yeah you could buy it at H and M or whatever but it takes me, like, two hours to make from cut to hem.
The bow in the back is a cute touch. Love it. Love this skirt! I don't really have that much to say about it but what's-his-face got some great photos of me so….what else are blogs for?
Twirl! Twirl! Twirl! It's very hard for me to not do this everywhere I go in this skirt.
I made it midi length which I like, despite my height. I've been over this on my maxi and wide legged pants journeys, but it's still so tempting to live by old fashion rules. Whatever, I can't possibly find this dowdy, I mean, it's too fun!
Ah, this skirt. I recommend that you make one for yourself, should you so desire. Obviously don't dip into consumerism or do it if it compromises your sense of your feminist journey, but sometimes, that little gimme voice is right. You might need this thing in your life. I know I do…