I was this close to naming these pants the Coral Palms pants because they are a beautiful shade a bright coral and you know I love me some Brooklyn Nine Nine, right? Oh, you didn't?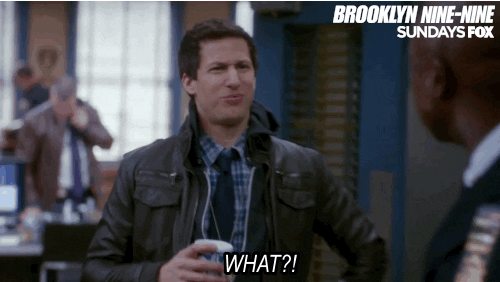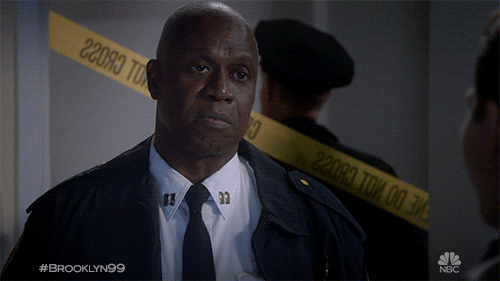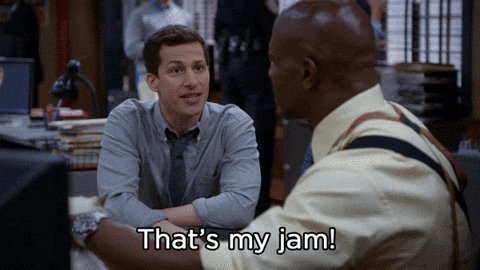 OBVIOUSLY.
And that, in fact is why I could NOT name these pants the Coral Palms Palazzos, even though that is an excellent name, because how could I name my pants after a place where Perelta and Holt had so many miserable moments?
I couldn't do that to them. They've suffered enough. When it comes to Florida, we all have.
So I went with a much less interesting name for a pair of pants that are anything but boring.
Let's talk about pants, shall we? Specifically wide legged ones. There was a time when I might have shied away from such a style. Modern style tips will tell you that short people and wide legged pants are a recipe for disaster. But that's not what the 1940's taught us, now, is it?
Not in the slightest. So where did this come from, the idea that short women couldn't enjoy their legs encased in miles of fabric just like tall women can? Of course, one might say, well, that's not what is most flattering. But screw flattering. I get a lot of compliments on these pants, so, I mean, how much more flattered can I be?
A little background on the pants of le wide leg, or as men call them, pants.  These styles became popular in the 1930's and 40's, particularly because of a group of Hollywood actresses who wore them regularly as costumes and in real life, prompting trouser lust. In the late 1960's, the style resurged, in some cases to combat anti-pants bias, because the loose flowy style didn't have the "figure hugging vulgarity" so disdained at the time for the delicate fairer sex. We've seen a wide legged pant move in and out of style, of course, ever since, popping up to duke it out with the legging and the skinny jean more recently for supremacy.
In India, palazzo pants have recently come back in a big way, although here people literally call all non-jean non-legging pants like options palazzos which…is interesting. technically, according to Wikipedia, a palazzo is a pant that flairs out evenly from waist to ankle, although the waist definition often comes through darts or tucks.
As is the case with the Marett pant from Seamwork. Now, it is April here in Mumbai and everywhere else in the world, and while where I come from that means cherry blossoms and cute cardigans for Spring's changing weather, here that means straight up summer. What fun. Summer in Mumbai is a long swollen season of humid days, sticky nights, and waiting for the rains (which also give you humid days and sticky nights, just wetter). While pants might seem like madness in such a period, wide-legged pants in a lightweight material are actually, I have found, just as comfortable as a skirt, and make for a nice change of pace for my dress/skirt heavy wardrobe. So I decided, it was time for me to go palazzo. While I've made wide-legged 1940's trousers before, and will do so again, the palazzo was new to me, and so, clutching my pearls, hoping for the best, I dove right in.
But then, not to be an underachiever, I thought, why make ONE new thing when you could make TWO? So I also (finally) made a Hoya blouse from Deer and Doe out of the most delicate lightweight Bengali muslin possible, and I have to tell you, it's a pretty winning combination in Mumbai right now!
Sidenote: Deer and Doe is so great. Their designs are amazing, of course, but also, when my package got lost in the mail on it's way to India, they sent me a new one, no questions asked! What a wonderful company!
It's a little hard to see the fabric of the blouse on me, but it's this Bengali white muslin shot with black thread to make these lovely sort of Escher-esk designs. I bought it at Geeta's Circle in Kolkata, which is my new favorite Kolkata fabric shop! It's super light, which is why it's probably good that the front part of this blouse is lined, which I had to do with a plain white fabric because I didn't have enough muslin, because otherwise my bra woudl show. I stitched the hem facing and sleeve hems by hand and tacked down the faux-wrap, and while I like this blouse a lot, I wish it was just a little longer, and wider at the hips, sort of a bit swingier? I don't know. But the shape is great, I will certainly be making it again!
Back to the pants! These are true fabric hogs, but I love it, especially in this bright bright fabric I got at Thakur. The fabric is lightweight but not translucent, and has a nice texture which you totally cannot see in photos.
I love how these pants have pockets. I am sure there are those who would say these are not the most flattered design on my short curved frame, but honestly, who cares? Why does everything have to be the MOST flattering all the time? These are comfortable as hell, they keep me cool, and I love them.
Plus, this color combination says Summer to me in a big way! I cut a size 12 of the palazzos, just to be safe, but ended up taking a lot out of the waist, about 4 inches, and I think I could go down to a 10 or an 8 on these, they are just that big. I wanted them comfy, though, so mission accomplished.
The back zipper is such a classic detail, don't you think? I hand picked it.
For the Hoya, I think I cut a 48 because I was worried about the bust measurement, and that's fine, fit wise, roomy but not a sack. I would, as mentioned before, lengthen it and widen out the hem for next time, but that's just my preference. For wearing it with high waisted stuff, this style is perfect. I french seamed everything I could on both garments, and finished the hems of the pants with seam binding and hand stitching.
So there you have it. Trying new things, wearing the pants, staying one step ahead of the humidity. That's me, in a nutshell.